Celebrating 4/20 in Long Beach, CA
Celebrating 4/20 in Long Beach, CA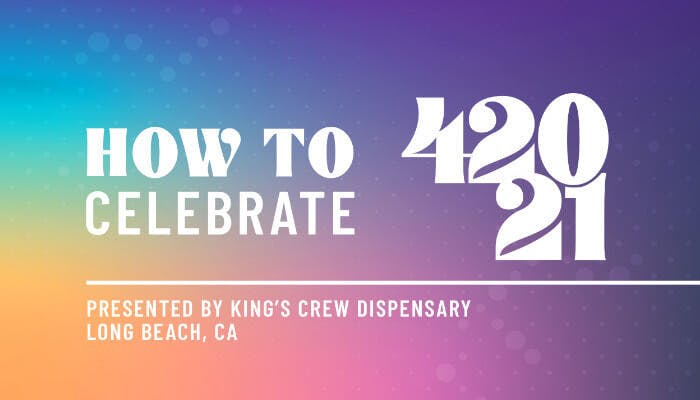 In the world of cannabis, April 20 is a day that holds special significance. Across the globe, parties, festivals, and gatherings are organized to celebrate cannabis, drawing tens of thousands of marijuana enthusiasts from all walks of life.
Here in the Los Angeles area, celebrations of all sizes and types are expected to take place. King's Crew has rounded up our top picks for Long Beach 4/20 events and ideas for celebrating, giving you plenty of choices for activities on the unofficial international day of cannabis.
How to Celebrate 4/20 in Long Beach
Are you searching for 4/20 events in Long Beach? Or, maybe you just want to make plans to celebrate the cannabis holiday with a low-key get-together with friends. However you choose to enjoy 4/20, Los Angeles is a great place to be for cannabis enthusiasts. 
Here are some of the Southern California 4/20 celebrations and activity ideas that we're looking forward to most this year:
Get Centered With A 4/20 Cannabis Meditation From Balancing Cannabis
This cannabis-centric mediation session is the ultimate activity for individuals interested in wellness, and the class planned for April 20 might just be your perfect holiday event. Hosted at the Grey LB venue space, the meditation is led by Balancing Cannabis. 
All you'll need is a yoga mat, some comfortable clothing, an open mind, and your favorite cannabis. For ease of enjoyment, a joint is recommended – don't forget to stop by King's Crew to get yours!
Plan A Cannabis Edibles Bakeoff With Friends
Everyone loves holiday-themed treats, so what better way to celebrate 4/20 than with some cannabis-infused edibles? Invite a small group of your fellow cannabis lovers over, then get cooking! Use high-quality cannabis flower to make DIY cannabutter (there are plenty of easy online tutorials), then bake up a batch of cookies, brownies, or whatever you're craving. You can even challenge your friends to get extra creative with their cannabis recipes and see what kinds of dishes are invented.
Make sure you're ready for a cannabis baking sesh with premium flower, which you can always find at King's Crew.
Stream Your Own Virtual Grateful Dead Concert
If you know anything about 4/20, you've probably heard that it's a holiday often credited to the Grateful Dead. In 2021, the band isn't exactly performing at live concerts, but that doesn't mean you can't enjoy their music as a part of your party.
Find one of the band's concerts, then play it on your television for your fellow rock music and cannabis fans. Even better, project the concert on an outdoor screen and host a festival all your own! Make sure to set up a snack table to keep up with munchies, and remember to grab a few favorite strains from King's Crew to enhance your viewing experience. 
Try Some Products From New-To-You Cannabis Brands 
If you're flying solo this 4/20, that doesn't mean you can't celebrate at home. At King's Crew, we're planning to offer great deals on our favorite products, making it the perfect time to try something new. There's probably at least one company that you've been wondering about, so why not mark the holiday with a little sample session in the comfort of your own home?
If you're unsure which marijuana products are the best fit for you; our staff is always happy to help you pick some new items that match your preferences. 
Take A Nature Walk With A Cannabis Vape In Hand
Another option for 4/20 parties of one takes you outside, where you can enjoy our famously fabulous SoCal weather. Pick your favorite vape, then head out to do some outdoor exploring. One of our favorite spots is the El Dorado Nature Center, which feels like a faraway retreat from the hustle and bustle of the city. It boasts two lakes, a peaceful stream, and acres of forested grounds, so you can decide whether you feel like wandering or sitting and soaking up the sun.
If you need to restock your collection of vape cartridges, we have you covered at our dispensary.
Relax At Home With Cannabis And Carryout (Or Even Better, Delivery)
Sometimes, the best thing to do on 4/20 is to skip the usual celebrations and kick back at home instead. Invite a few people to come over or enjoy your own company – there's no wrong way to do it. 
Partake in your preferred form of cannabis – purchased from King's Crew, of course! – then order delivery from one of your favorite area restaurants. Right, when the munchies set in, your food will arrive, and your day will get that much better. And best of all, you won't even have to change out of your comfortable clothes.
Win The King's Crew Raffle For The Ultimate Marijuana Prize
Imagine the 4/20 story you'll be able to tell if you're the grand prize winner of our 4/20 raffle! Not only will you take home an incredible $500 Studenglass Gravity Hookah, but you'll also be flying high from the excitement of it all. 
Entering is as easy as purchasing qualifying products from King's Crew, from now until the drawing on 4/20. We'll be picking the winner live at our dispensary at 2:00 pm on April 20, 2021. Make sure you're there to claim the prize if you win!
Making the Most of 4/20 in California
Whether you're a seasoned consumer or just beginning to discover cannabis consumption, the best way to enjoy 4/20 is to make sure you're prepared with premium cannabis. A subpar strain or low-quality product can seriously downgrade the day, leaving you feeling disappointed.
But when you shop at only the best dispensaries in Long Beach, CA, you can be confident that you're heading into the holiday with exactly what you need. King's Crew carries only the finest cannabis products and strains, giving you a variety of options for all your 4/20 celebrations. When you're searching for premium cannabis in Los Angeles, you can count on finding an extensive selection right here at King's Crew. 
Not sure how to live it up this 4/20? Let our knowledgeable team help you pick the products that will make the day one to remember.
Shop for 4/20 Cannabis in Los Angeles, CA at King's Crew
At King's Crew, we're all about elevating your cannabis experience and enjoying the strains and cannabis products that suit you. There's nothing we love like a good celebration, and we're particularly passionate about cannabis – so April 20th is easily one of our favorite days of the year.
Before you make plans for April 20, 2021, visit the King's Crew dispensary to shop the best marijuana in California.
Image credit: Getty/Rex_Wholster